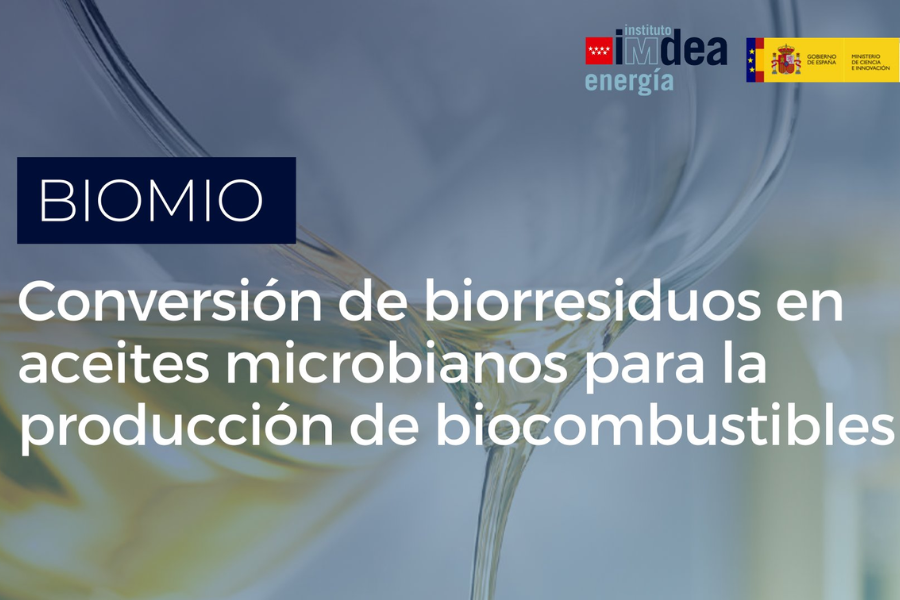 In the transportation sector, biofuels have driven the transition from an oil-dependent model towards a renewable scenario. Among biofuels, there are lipid-derived fuels like biodiesel based on vegetable oils. To cover biofuel production needs, a strong demand of plant oils is expected in the coming years. To solve this, microbial oils are envisaged as promising alternatives to meet this growing necessity. In this manner, oil-based chemistry arises as a promising alternative to petroleum for the production of sustainable fuels and chemicals.
The Biotechnological Processes Unit of IMDEA Energy coordinates the project Biowaste conversion to microbial oils for fuel production (BIOMIO). In this project, carried out together with some researchers from CIEMAT, agri-food organic residues are used to produce two different carbon sources (carboxylates and sugars) that are converted into oils by yeast and subsequently transformed into biofuels. This project also explores the production of additional co-products (biohydrogen and carotenoids) that would help improving the overall efficiency of the processes.
There is no doubt of the need of shift to a bio-based economy to counteract over-dependency of fossil fuels, reduce GHG emissions, and develop environmentally friendly and sustainable global economies. Thus, BIOMIO has been designed to reduce GHG emissions in a circular economy context based on the sustainable use of available resources.
Project PID2020-119403RB-C21 funded by: