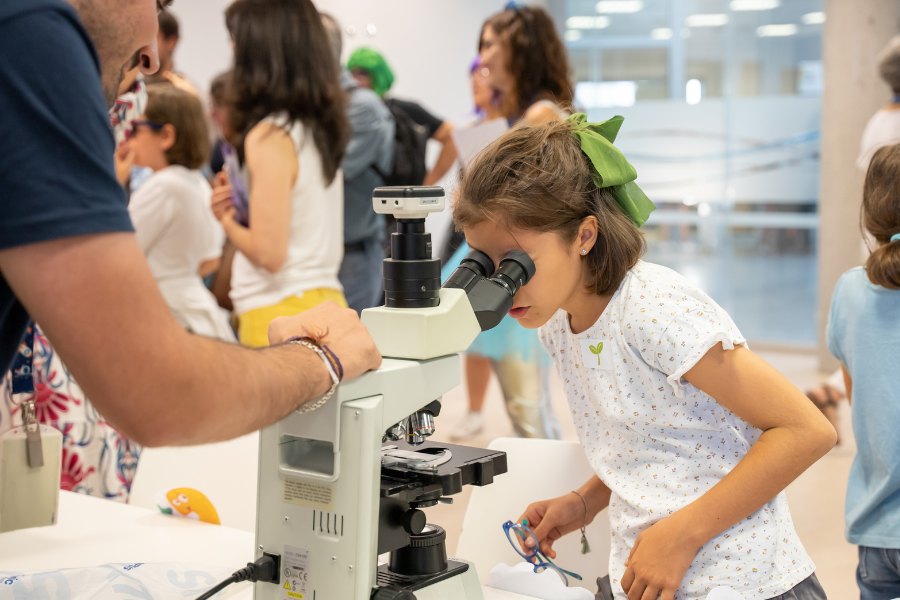 Nearly 200 people participated in a new edition of IMDEA Energy's European Researchers' Night. Children between 5 and 10 years old, together with their families, visited the center to discover the research work of the units through games and informative workshops under the title 'The energy of the future'.
The little ones were able to launch a rocket with water and pressurized air, pedal bicycles to generate electric energy and race cars around a circuit, solve interactive quizzes, carry out "mini-fermentations" by mixing fresh yeast with hot water and sugar, test several microscopes, understand the concept of "sunlight concentration" by melting chocolate and testing a thermographic camera, discover how conductive materials work by competing in a robot race, or learn about electrochemistry by generating protons and observing solutions.
At the end, all participants enjoyed an 'energizing snack'.
In addition, Adriana Souza, Postdoctoral Researcher at IMDEA Energy, was a speaker at 'The 5 EU missions as seen by IMDEA researchers (II)', the event organized at IMDEA in which IMDEA Institutes' researchers through different presentations demonstrated that science is the Planet's best ally through different examples of how their work helps towards that common and very ambitious goal of achieving a better and more sustainable future for all by focusing on the five missions that the European Union considers to be a priority: Trying to curb climate change, restoring our oceans, getting healthier food, winning in the fight against cancer and having smarter and more sustainable cities.
Each of them gave their personal views on what we can do to help fulfill these missions and what they are doing in their laboratories.
[/tatsu_text]
[/tatsu_column][/tatsu_row][/tatsu_section]