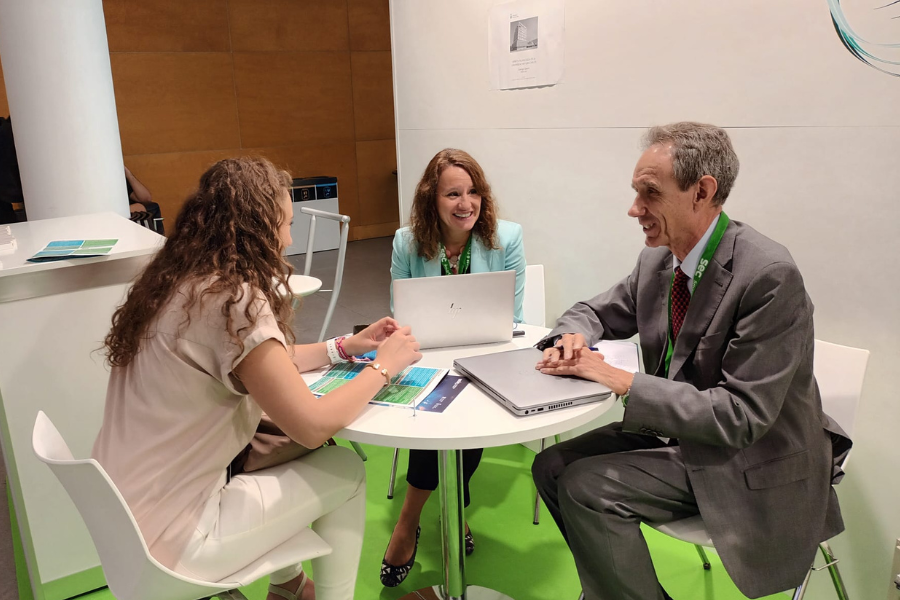 Institute IMDEA Energy has participated in the different activities of the "Smart Energy Congress SEC 2023" held at the IFEMA North Convention Center, Madrid, on October 4th and 5th, organized by the enerTIC Platform, of which it is a collaborating entity. The event brought together to share innovative technology and knowledge companies from various sectors related to energy, mobility, information technologies and communications along with research centers and universities among other participants, many of which are part of IMDEA Energía's collaboration network.
The round table discussions "Technological development and digitalization, keys for the advance towards decarbonized and sustainable organizations, trends, opportunities and innovation", which took place in the Technology Auditorium on Thursday, November 4th from 1:15 to 2:30 pm, were moderated by Félix Marín, Head of Development and Technology Transfer at IMDEA Energía. The round table was attended by representatives of companies of different sizes and sectors working on the development of electric mobility, energy control and savings, energy efficiency in data storage and cloud applications with technologies that contribute to decarbonization, sustainability and waste reduction, fields that are synergistic or linked to the Institute's research topics.
The meetings arranged as part of the "matchmaking" business roundtable made it possible to present Institute IMDEA Energía's activities and technologies to interlocutors from various companies interested in the opportunities for collaboration in joint R&D projects and the business opportunities offered by the results of the Institute's research lines, the technologies developed and the patents in its portfolio.