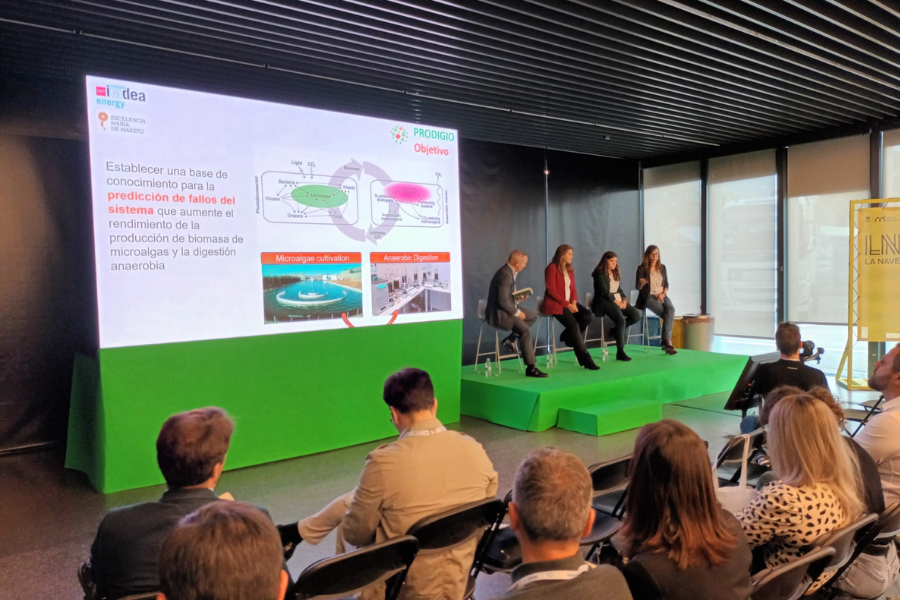 Institute IMDEA Energy has had an outstanding participation in the different activities of the Green Gas Mobility Summit 2023, held in La Nave, Madrid on September 20th and 21st, organized by the Iberian Gasnam Association and the Neutral Transport Technology Platform, where more than 1,300 accredited people, a wide institutional representation and leading energy and transport companies have gathered.
Previously, the "Award for the best innovation project in the renewable gases value chain" had been announced, for which eleven candidates were selected. IMDEA Energía participates in the Consortium of three of the selected projects: eGHOST, Prodigio and Zeppelin, whose posters were prominently displayed at the entrance of the pavilion.
Cristina González, Head of the Biotechnological Processes Unit participated in the round table "From waste to energy resource: revolutionary projects in biomethane production" in which she presented the progress of the Horizon Europe PRODIGIO project on the optimization of industrial biogas production through improvements in microalgae cultivation and anaerobic digestion, which aroused the interest of the attendees and the press who interviewed her afterwards.
Javier Dufour, Head of the Systems Analysis Unit, participated in the round table "Innovating towards a sustainable future: pioneering projects in hydrogen production and distribution" where he presented the results being obtained in the Horizon Europe project he leads, eGHOST, on sustainable design of fuel cells to improve the impact of hydrogen vehicles.
The meetings arranged within the framework of the networking business round table allowed Felix Marin, Head of Technology Development and Transfer, to present the activities and technologies of Institute IMDEA Energy to interlocutors from various companies interested in the Institute's lines of research, patents and technologies developed and opportunities for collaboration in joint R&D projects, including representatives from BP, Toyota, Waga Energy, Genia Bioenergy, pHYnix Energy or Gruppo AB.