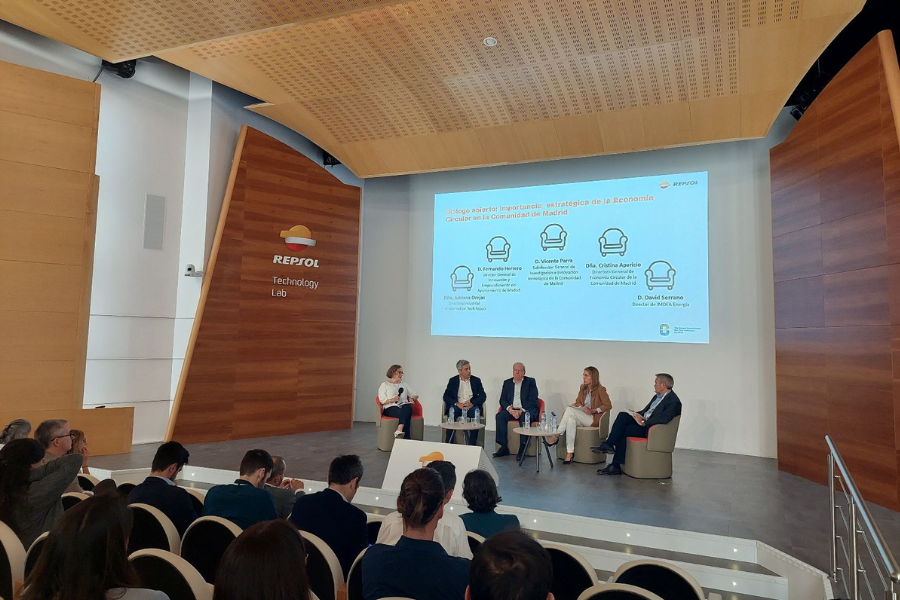 Madrid+Circular is an ambitious research program created to promote a culture of cooperation between different agents of the scientific, technological and business ecosystem of the Community of Madrid. This project seeks to generate and share knowledge on new technologies that facilitate the revaluation of waste by incorporating it as raw material in industrial processes for the production of materials and fuels with a low carbon footprint, allowing the use of all types of waste as new raw materials with the integration of renewable energy sources and, therefore, the transition to a more sustainable city.
On June 12, an event was held with all the agents involved in the consortium, led by REPSOL as the driving force in the energy sector, together with IMDEA Energía and other technological SMEs (ARIEMA and SEENSO) and the start-up EVOENZYME.
Javier Dufour, head of the Institute's Systems Analysis Unit, presented at the event the development of new technologies for waste valorization being used at IMDEA Energía, while the Director, David Serrano, took part in a round table discussion on the Circular Economy strategy in the Community of Madrid.
More information about the project