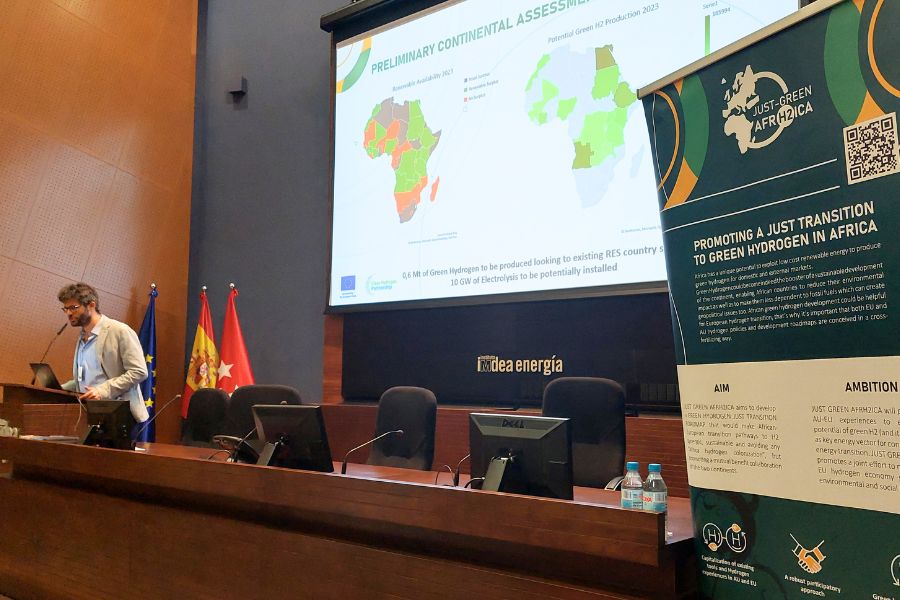 Spain is currently one of the leaders in Europe in terms of renewable energy production and can become one of the most relevant European hydrogen centers, as well as being the "gateway" for the import of African green hydrogen through its pipelines and ports.
To this end, Europe and Africa must jointly promote a transition to hydrogen in order to promote sustainable economic development, as well as the decarbonization of their economic sector. As the RePowerEU plan envisages, Africa has enormous renewable potential that can drive the production of green hydrogen also with the aim of exporting it to the EU to meet continental needs.
In this way, the just transition to green hydrogen in Europe, Spain and Africa could in turn boost the development of local economies, so it is important that hydrogen policies are conceived in an interdisciplinary way.
In this context, IMDEA Energy has hosted a workshop with key hydrogen stakeholders from Spain and Africa with the aim to discuss and move towards a space of collaboration and development for mutual benefit in the promotion of a hydrogen-based green economy, with the participation of companies such as Enagás, Repsol or Naturgy.
The event was held within the framework of the JUST GREN AFRH2ICA project, in which IMDEA Energy participates as a partner, and whose objective is to serve as a "springboard" for the definition of a collaborative roadmap that, based on the analysis of different scenarios of green H2 in Africa analyzed at a socio-economic and technical level, will promote future investments, as well as the installation of local manufacturing plants until 2050.