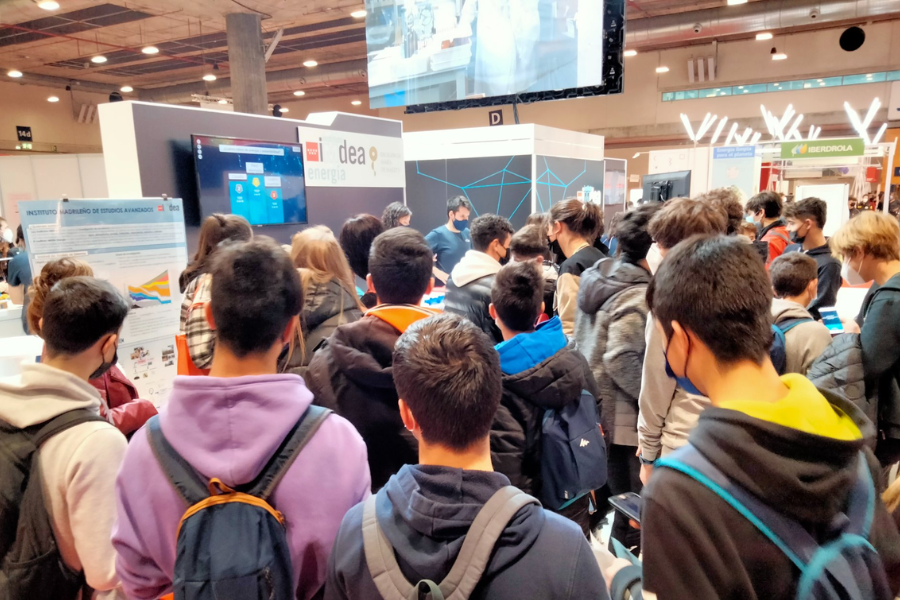 The 11th "Madrid is Science" Fair, organised by the Fundación para el Conocimiento madri+d, has registered a number of visitors in excess of 20,000 people, thus surpassing the number of visitors to its last edition (2019).
During its four days from 2 to 5 March, Hall 14 of the IFEMA Madrid exhibition centre turned its 3,000 metres into a comprehensive exhibition of the Region of Madrid's R&D&I capabilities for the construction of a sustainable future, showing citizens, from a fun and participatory point of view, the response that Science, Technology and Innovation can give to the challenges facing the planet.
The Sustainable Development Goals (SDGs) and the celebration of the International Year of Basic Sciences for Sustainable Development have been the backbone of this edition, which has had the slogan "Building a sustainable future" and around which the different activities that have taken place at the Fair have revolved. Thus, visitors were able to participate in experiments carried out by more than 1,200 students from the 41 participating schools; witness demonstrations by young researchers who carry out their scientific work at leading centres in the Community of Madrid, such as the IMDEA Madrid Institutes for Advanced Studies.
In the case of IMDEA Energía, the activities took place on 2 and 3 March. On the first day, scientists from the Systems Analysis and Thermochemical Processes Unit carried out a quiz for the participants, while several researchers from the Photoactivated Processes and Advanced Porous Materials units developed the workshop 'Game of Pores: what do coal and a sponge have in common', as an example of water decontamination.
On Thursday 3 it was the turn of researchers from the High Temperature Unit, who demonstrated the operation of a stirling engine and the capacity of a small-scale solar concentrator, and from the Electochemical Processes Unit, who taught attendees how to make their own button cell battery or to better understand the process of water electrolysis and the Nernst equation.