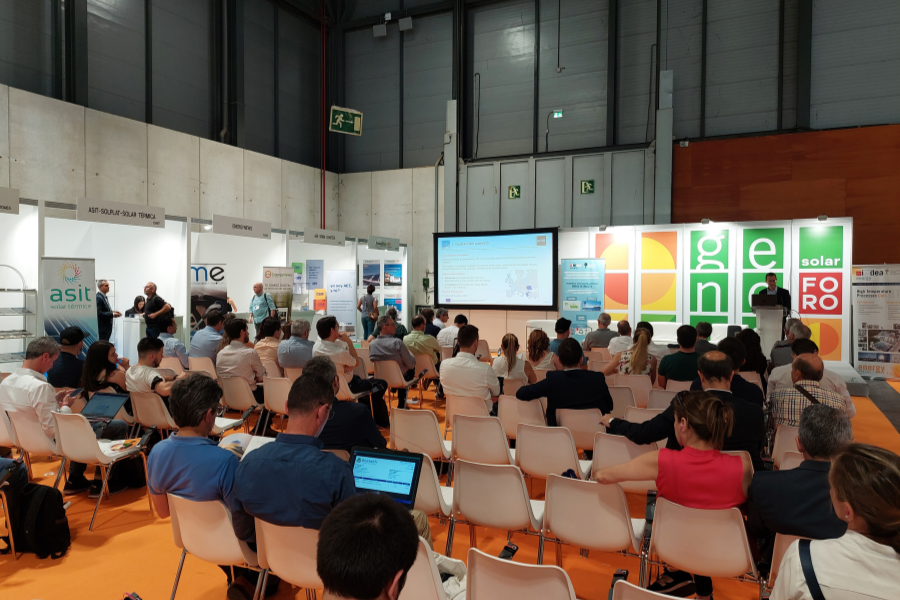 IMDEA Energy has participated once again in the Energy and Environment Fair Genera 2022, held at IFEMA (Madrid).
On 14 June, the conference 'Solar heat generation for industrial processes' was organised, with the participation of SolarConcentra, SEENSO Renoval, CENER Energía and the UNED University.
José González, head of the High Temperature Unit of IMDEA Energy was in charge of starting the event by introducing the speakers and mentioning the research work of the institute within the framework of the ACES 2030 project.
Sandra Cubero, from SolarConcentra, began by analysing the situation of concentrated solar power in the industry and the future prospects of the sector.
For his part, Antonio Rovira, professor at the UNED, explained to the attendees the European project Astep H2020, based on the supply of thermal energy above 150ºC, capable of supplying industrial facilities.
José Ignacio Ajona, from SEENSO Renoval, spoke about the company's R&D strategy and the cost-efficiency balance in industrial processes, and finally, Marcelino Sánchez, from CENER Energía, opened a debate with the participants to discuss reliability and market confidence in the process heat installations sector and customer relations.
On 16 June, it was the turn of the conference 'Challenges of grid integration of renewable sources', together with Francisco Javier Fernández-Peitado, from UFD Distribuidora, Naturgy Group, and Juan Alberto Marrero, from Norvento Energy.
Fernández-Peitado, Head of the System Analysis and Dimensioning Unit – UFD Distribuidora, analysed the company's perspective on the integration of renewables into the electricity distribution grid, while Marrero, Head of the Power Electronics Business Unit at Norvento, detailed the difficulties of managing electricity grids in rural areas.
Finally, Milan Prodanovic, Head of the Power Systems Unit at IMDEA Energía, presented the institute's research work on technology and impact on the quality of electricity supply within the framework of the DRES 2 Market project.